#SuzyLFW Mary Katrantzou: The Meaning Of Milestones
文章導讀
The ebullient designer tidies up the plants down memory lane
敬請期待中文版
Mary Katrantzou's Spring/Summer 2019 collection reinterpreted and reconfigured pieces from her archive to create something new but with a recognisable signature
Aiker Aldama / InDigital.TV
I recognised it all – the references to Mary Katrantzou's work over the past 10 years in fashion.
There were the stamps, now put in tidy, graphic lines; the flower specimens laid out with the finesse of an archivist; bank notes as served by some magical money machine.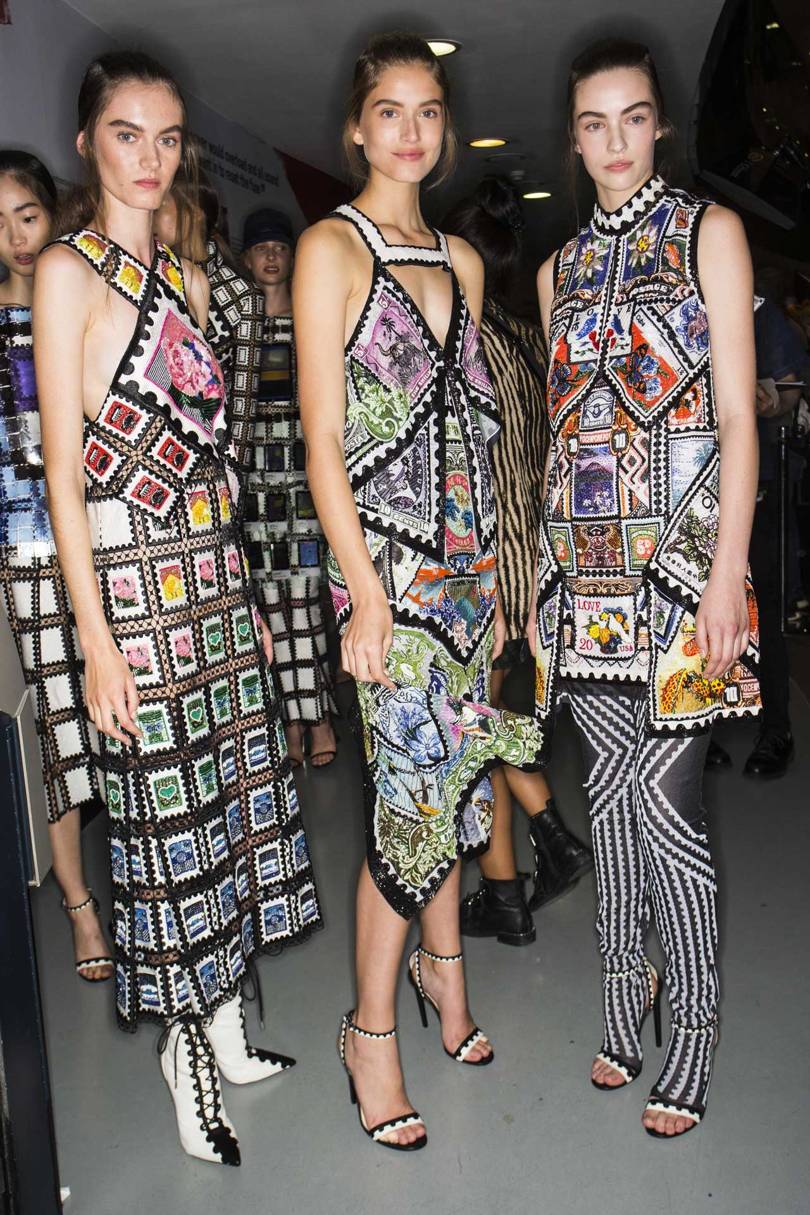 Backstage at Mary Katrantzou Spring/Summer 2019 - the new "Stamp" dresses
Sonny Vandevelde
In retrospect, it is easy to see that the designer was at the forefront of a novel design wave: the digital patterns of new technology that have flooded the markets.
But Mary embraced the new media with intelligence, then and now, when almost every one of her ebullient patterns was contained within straight lines. It was as if she had taken elements from previous collections and mixed them into something new.
The thread was clear to follow – not just when the show ended with a central tent in London's Roundhouse opening to reveal actual examples of earlier collections, but also because Mary developed her signature look so early on. It is just easier to read it now, in retrospect.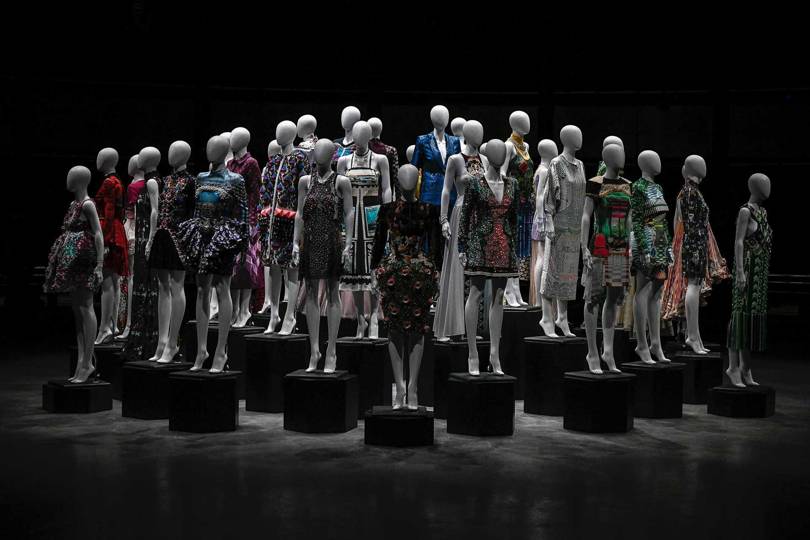 Archive pieces from the past 10 years of Mary Katrantzou's label. The key looks were explored and updated for the Spring/Summer 2019 collection
Aiker Aldama / InDigital.TV
In fashion it is not easy to continue to do what you believe in and build it as a business.
Backstage, the ebullient designer answered questions about her work in a stream of consciousness.
"My favourite is the perfume bottles, because it was the first-ever show we did at London Fashion Week and that was the moment I realised that I could set up my own business. So that was special."
"We accentuated the silhouette because back then [ten years ago], the 'Perfume' dress was an hourglass shift-dress and now it is structured and hand-knitted. We just wanted a moment where people who saw the 'Perfume' dresses tonight and who were also there ten years ago, would go 'Ohhh! That's a memory of something that we know!'"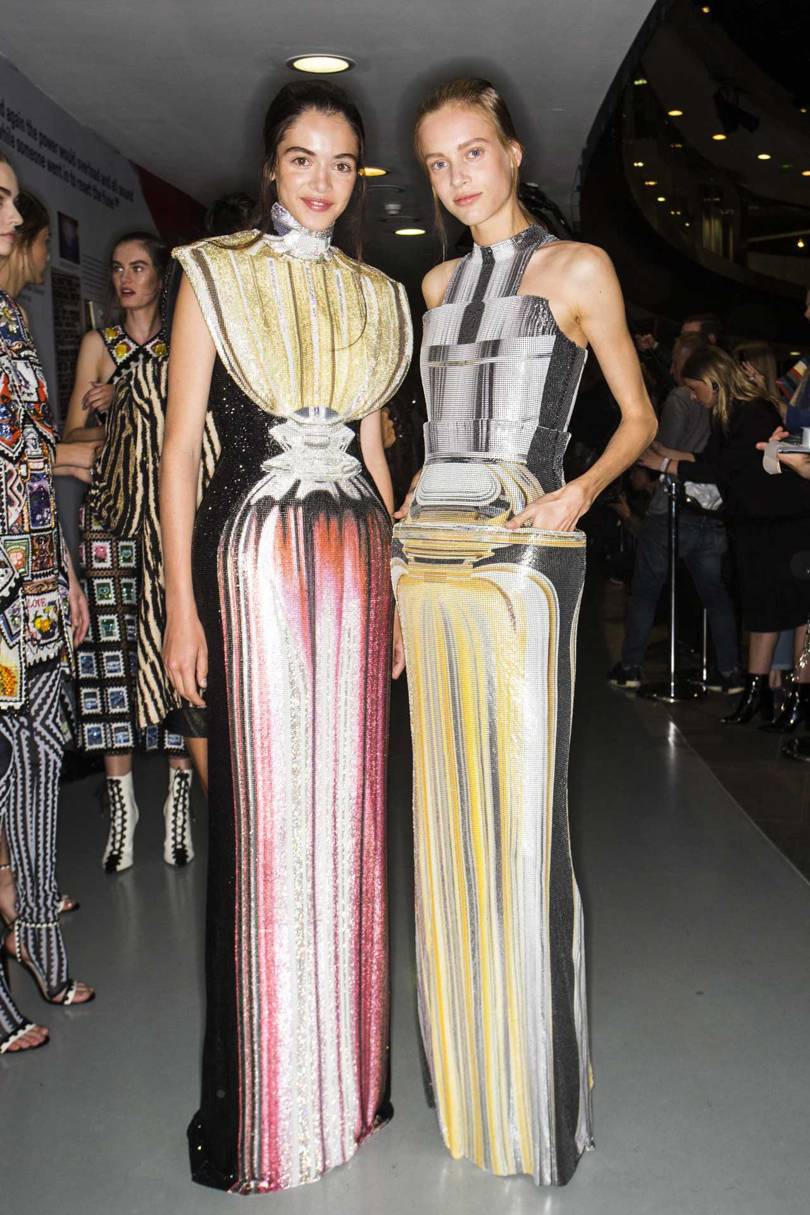 Mary Katrantzou's famous "Perfume" dresses, updated for Spring/Summer 2019 as a knitted shift with a cinched waist
Sonny Vandevelde
Mary described her motivation behind the collection as an exploration of "the relationship between the pieces that we showed before that were referenced in the collection that walked today. So it was actually a dialogue between [existing] pieces and templates of pieces that are part of this season."
This reworking – or rather further development – of earlier ideas was an interesting moment for the designer. "I was pleased to have the opportunity to look back and say, 'I want to bring that back.' I wanted to present it in a completely different context to what I did then, and to cross-pollinate between different seasons. That is why we did the stamps and the long jewellery."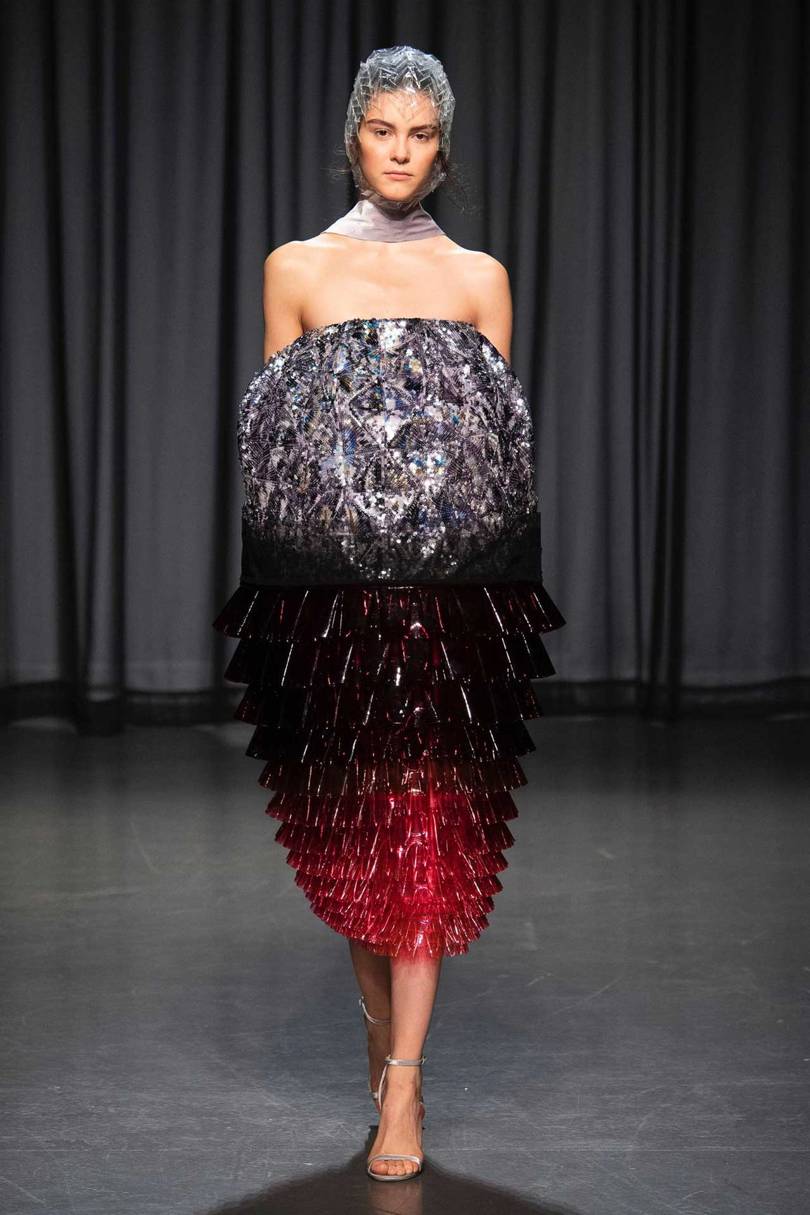 A wearable gemstone in Swarovski crystal by Mary Katrantzou Spring/Summer 2019
Yannis Viamos / InDigital.TV
As to any whisperings of recycling design, Mary explained, "There are lots of ideas and references that we have used in the past, so there is a recognisability, but without using a silhouette that we have done before in that particular reference. I wanted newness, and we are not getting embroiled in looking back at what we have already done."
The overall impression of the collection was that Mary has blossomed not only into an accomplished designer, but businesswoman too. "My fondest memory of the past ten years is the realisation that walking to work every day I am happy. I was so stressed at the beginning! Now I'm really happy to be here!"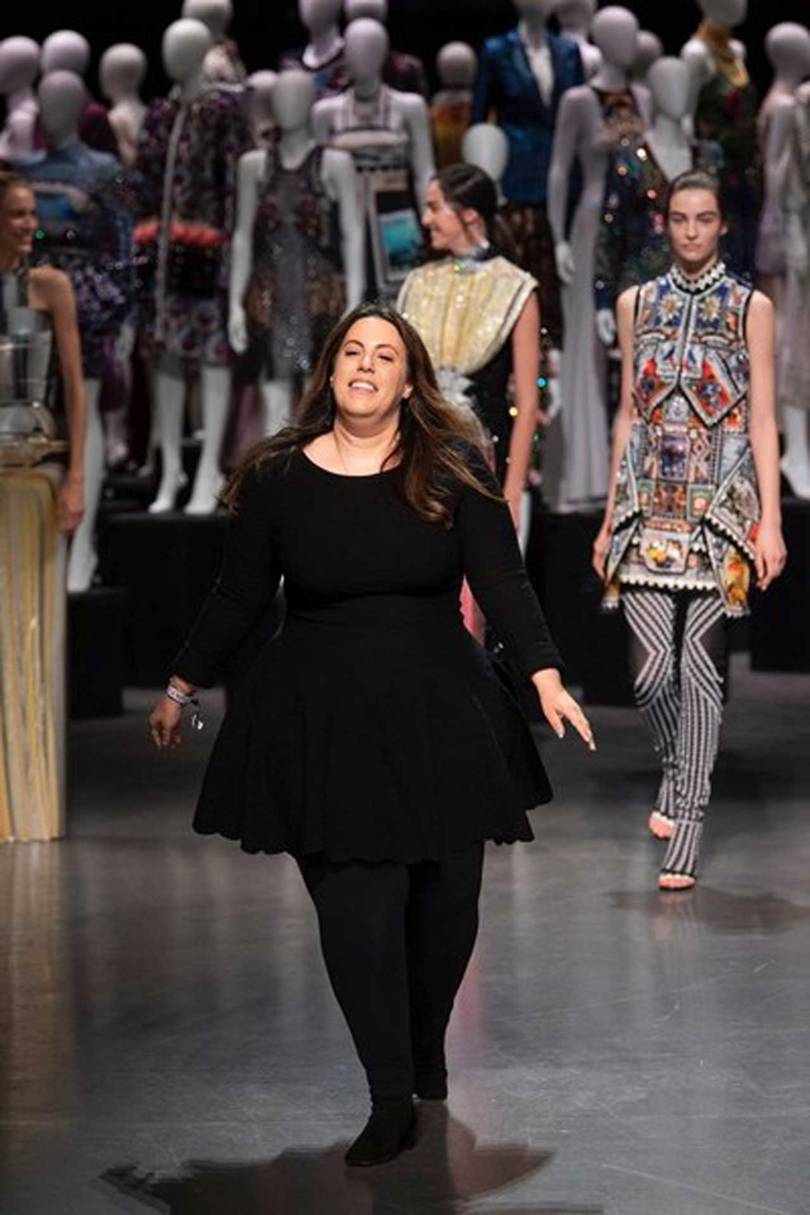 Mary Katrantzou takes a victory lap after the presentation of her Spring/Summer 2019 collection
Yannis Viamos / InDigital.TV
轉載聲明
本內容系VOGUE時尚網原創或經官方授權編譯轉載,嚴禁以任何形式或方法轉載或使用,違者追究法律責任。
將本文分享到
你可能還會喜歡
更多相關網站內容