#SuzyPFW: Balenciaga: Shapes That Count Past 100
文章導讀
Creative cutting and superb stitching feature in the latest Demna Gvasalia offerings
敬請期待中文版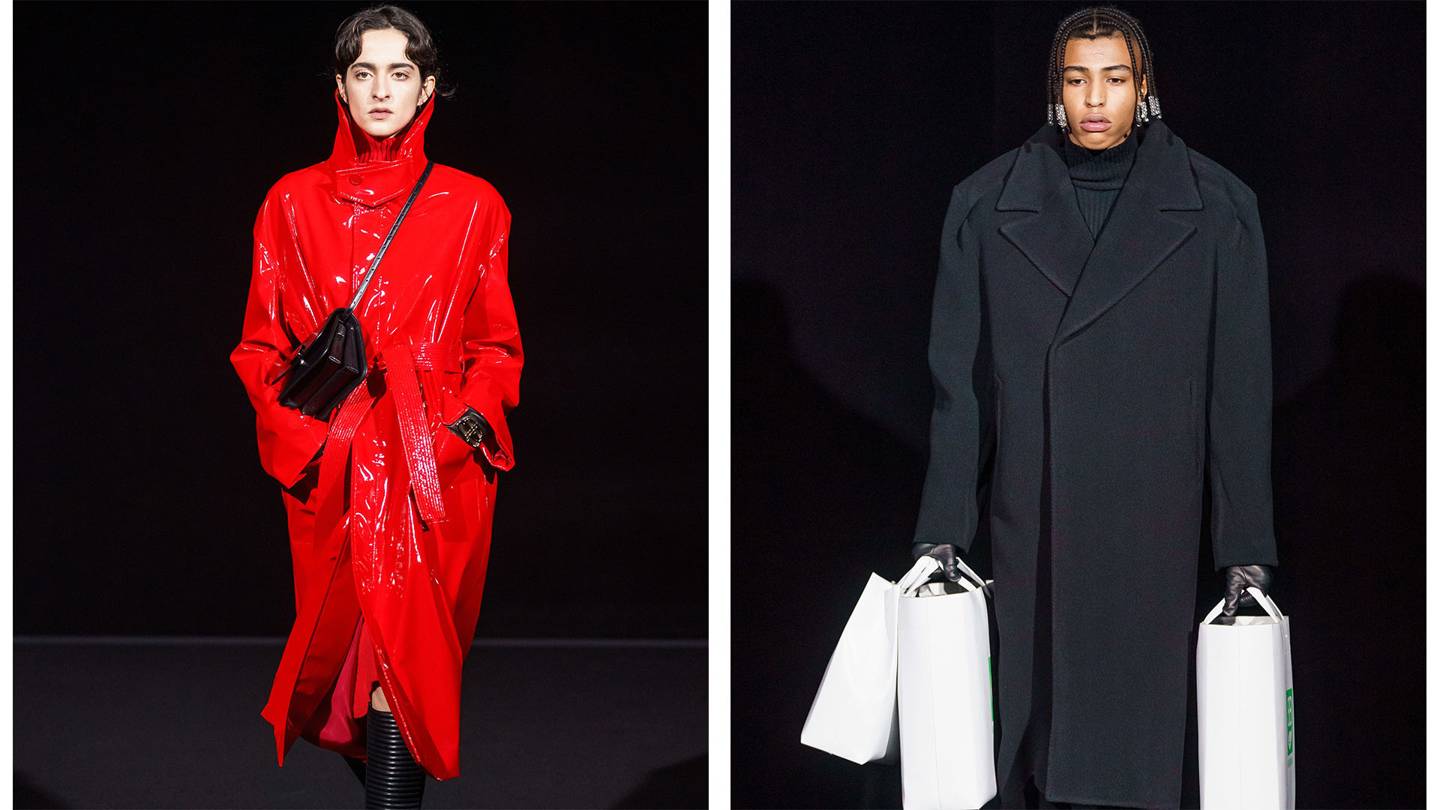 Subtle but profound differences set the women's and men's garments apart, but they were united in their tailored look
Alessandro Lucioni / Gorunway.com
So it's official: the return of tailoring! As has happened so often in the past, in the last few days of a four-week, non-stop season of fashion shows, Paris has come up trumps.
A plethora of coats with bold shoulders overwhelmed the Balenciaga collection, which found the passion for fashion in a tailored suit. They came out, fast and furious, on to the runway, from darkness to light.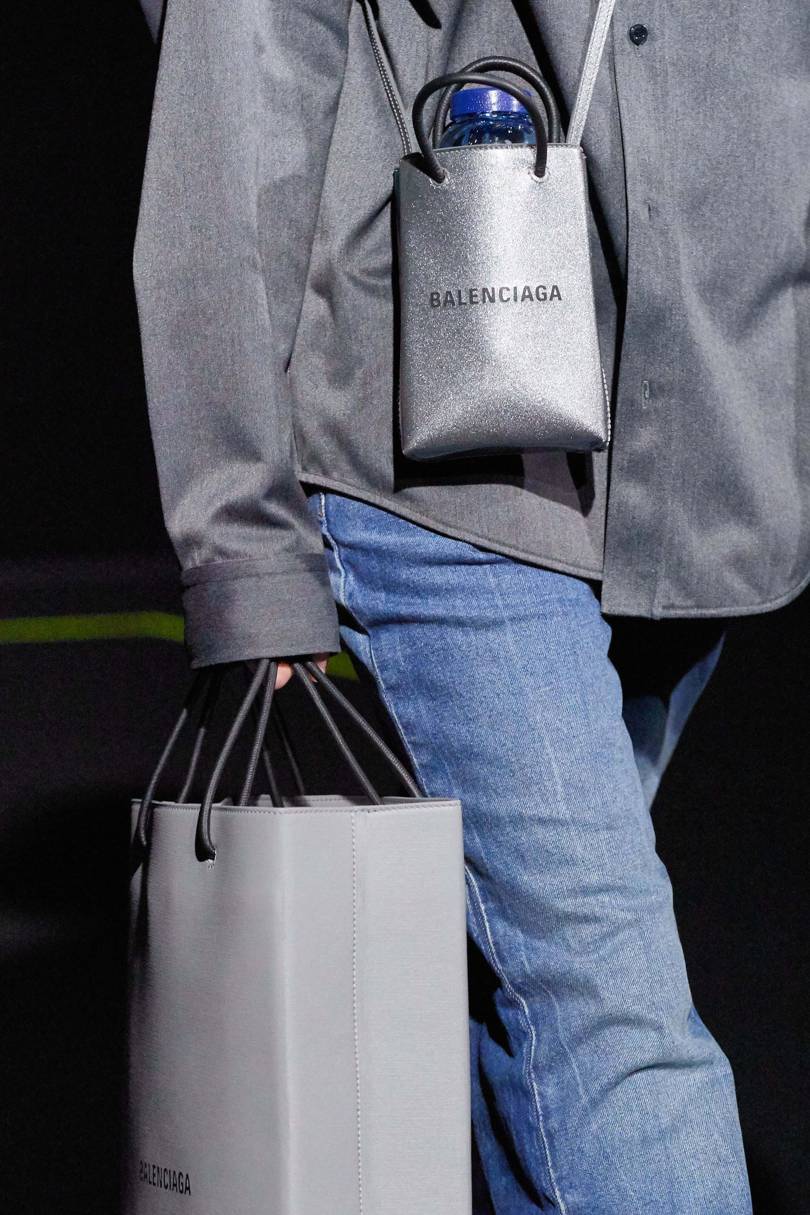 The male models appeared to have done the bulk of the Balenciaga shopping
Armando Grillo / Gorunway.com
There were suits, straight or curvy, for women, but it seemed that the men had the lion's share, as they swung Balenciaga shop bags – one, two, three at a time – as gleeful owners of the latest look.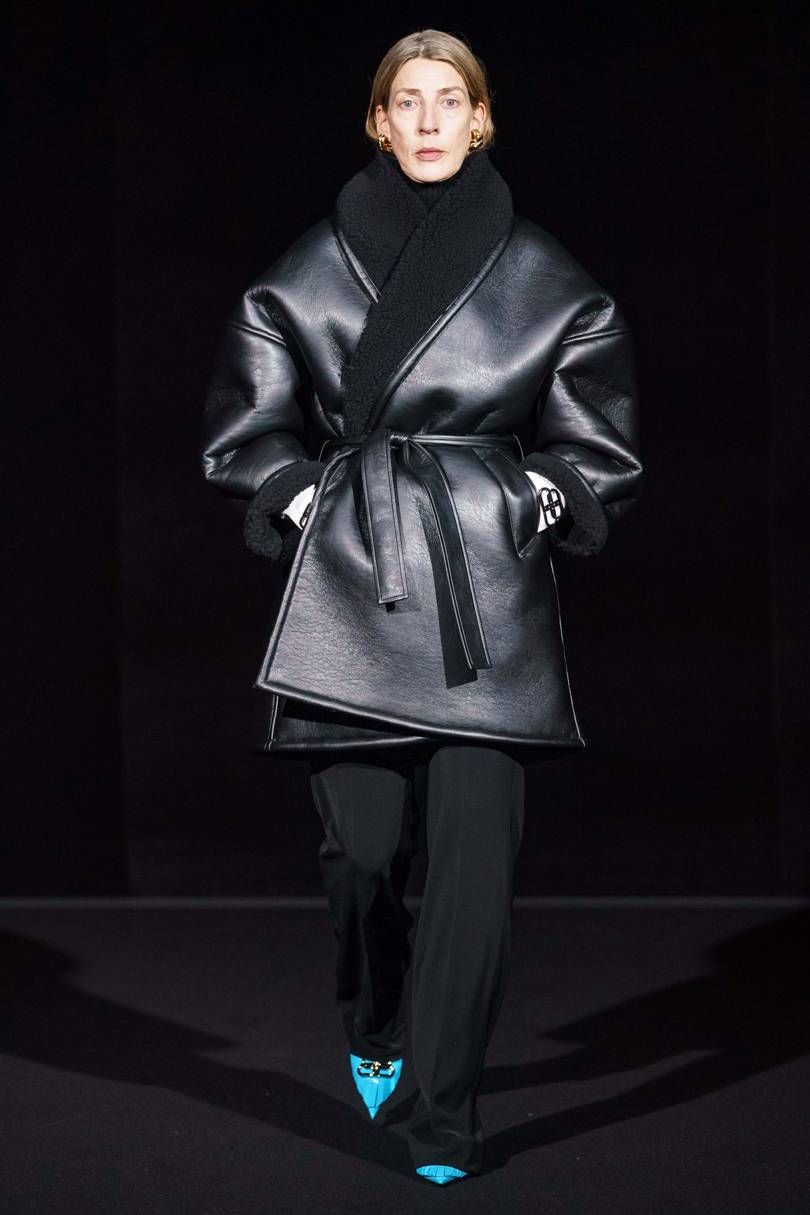 Some coats in the new Balenciaga collection wrapped and cuddled the body
Alessandro Lucioni / Gorunway.com,
And what a choice, at least if you were into tailoring. Mostly, for both sexes, there were high-rise shoulders, or shapes that curled upward like the roof of a Japanese pagoda. There were single-breasted straight cuts, or coats that wrapped and cuddled the body, and shoulders that shifted upwards.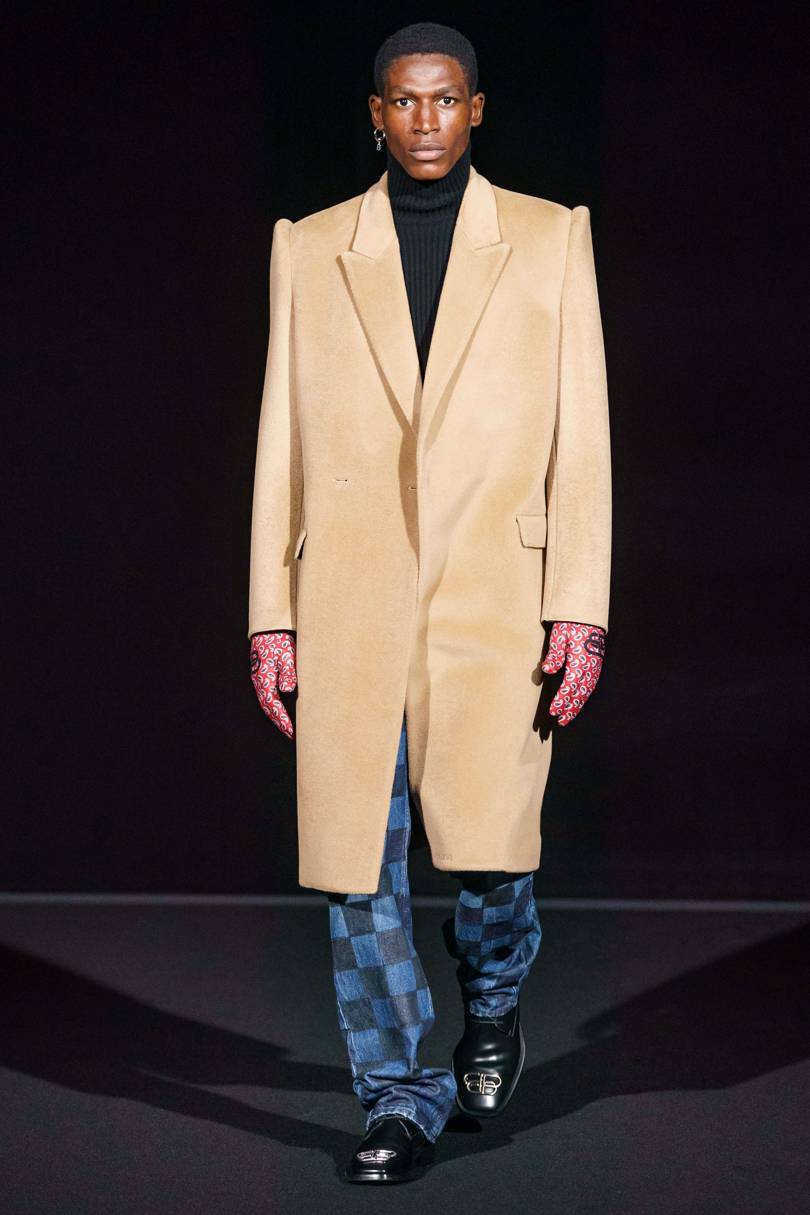 Shoulders point skyward in pieces for both men and women
Alessandro Lucioni / Gorunway.com,
The range and the bandwidth of the tailoring were stunning, especially when you could see it with the artsy lighting.
"I feel it's the necessary vocabulary I have to express and it's my only way. Every six months I feel that I needed this 100-piece overlook for all these ideas," said Demna Gvasalia, Balenciaga's creative director.
"It's the first time I've made what I call a mega collection that is going to spread through six months, and basically what you are seeing today will be delivered in the main sales period."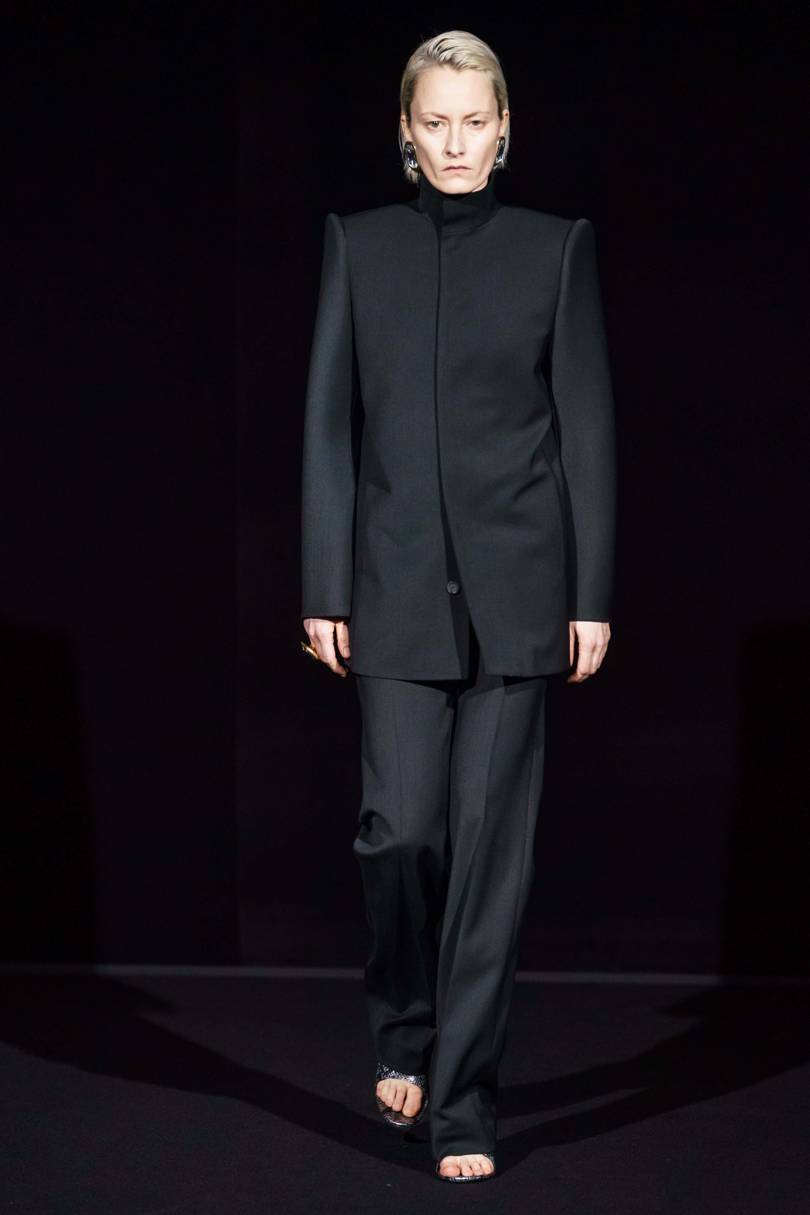 A women's tailored suit was unlike that for men, in that it buttoned right up to the neck
Alessandro Lucioni / Gorunway.com,
What were these vaguely transgender coats like? They were all mannish but with differences, such as the women's version of a tailored suit buttoned up to the throat, while a man had a sculpted camel coat.
A shiny raincoat reflected the subtle differences between the men's and women's collections
Alessandro Lucioni / Gorunway.com,
The differences were subtle, but profound. They came in fabric – a woman's shiny belted raincoat or one of the rare outer garments, or a turquoise coat cut off above the knees.
The brand was hidden on this grafitti-patterned item from the Balenciaga show
Alessandro Lucioni / Gorunway.com,
Many outfits bore logos: the Balenciaga name was boldly printed on a male sweater, or lost inside a woman's pink graffiti-patterned coat dress, while another had a scattering of images of the Eiffel Tower.
A laundry list of clothes does not do justice to the imagination that had invented each outfit, and the modernity of its creation.
"We had a lot of fluid tailoring with the sharp shoulder, 3D moulded," explained the designer. "We are using techniques in more subtle ways, like exaggerating the sleeve as one of the tailoring tricks that we use this new technology for. So we created a feeling of something very constructed, but it's a very fluid jacket. We took away the buttons because I find buttons, at the moment, quite retro. I try to hide them or take them away."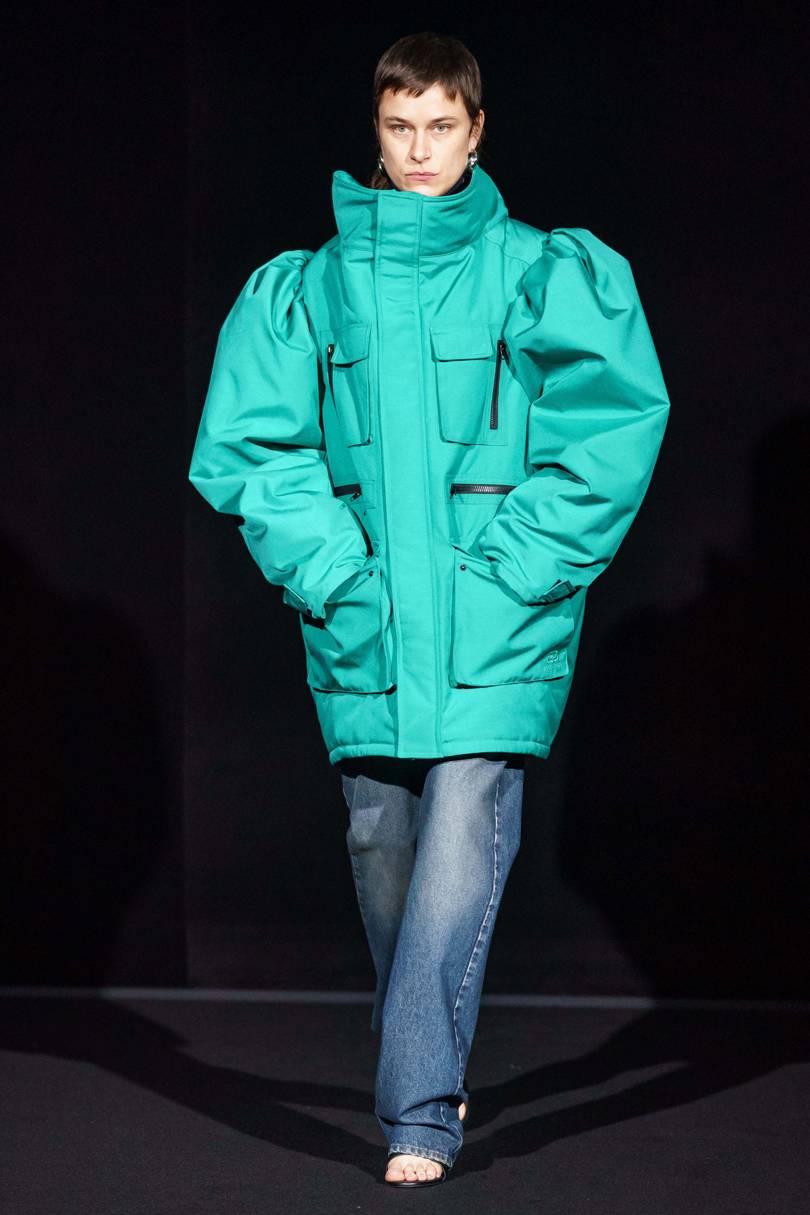 Damna Gvasalia avoided buttons or hid them, because he finds them 'retro'
Alessandro Lucioni / Gorunway.com,
Ultimately, it was not technique that was at the heart of the show but, rather, desire.
Demna has come a long way since he and his brother Guram created Vetements, with its unconventional oversized garments and cool attitude. The Balenciaga collection was more conventional but also more subtle in attitude and workmanship. It was a palpable hit.
轉載聲明
本內容系VOGUE時尚網原創或經官方授權編譯轉載,嚴禁以任何形式或方法轉載或使用,違者追究法律責任。
將本文分享到
你可能還會喜歡
更多相關網站內容