#SuzyLFWNG Maxhosa By Laduma: A Unique Expression Of African Style
文章導讀
The South African brand creates colourful knit sportswear with a fresh, modern twist
敬請期待中文版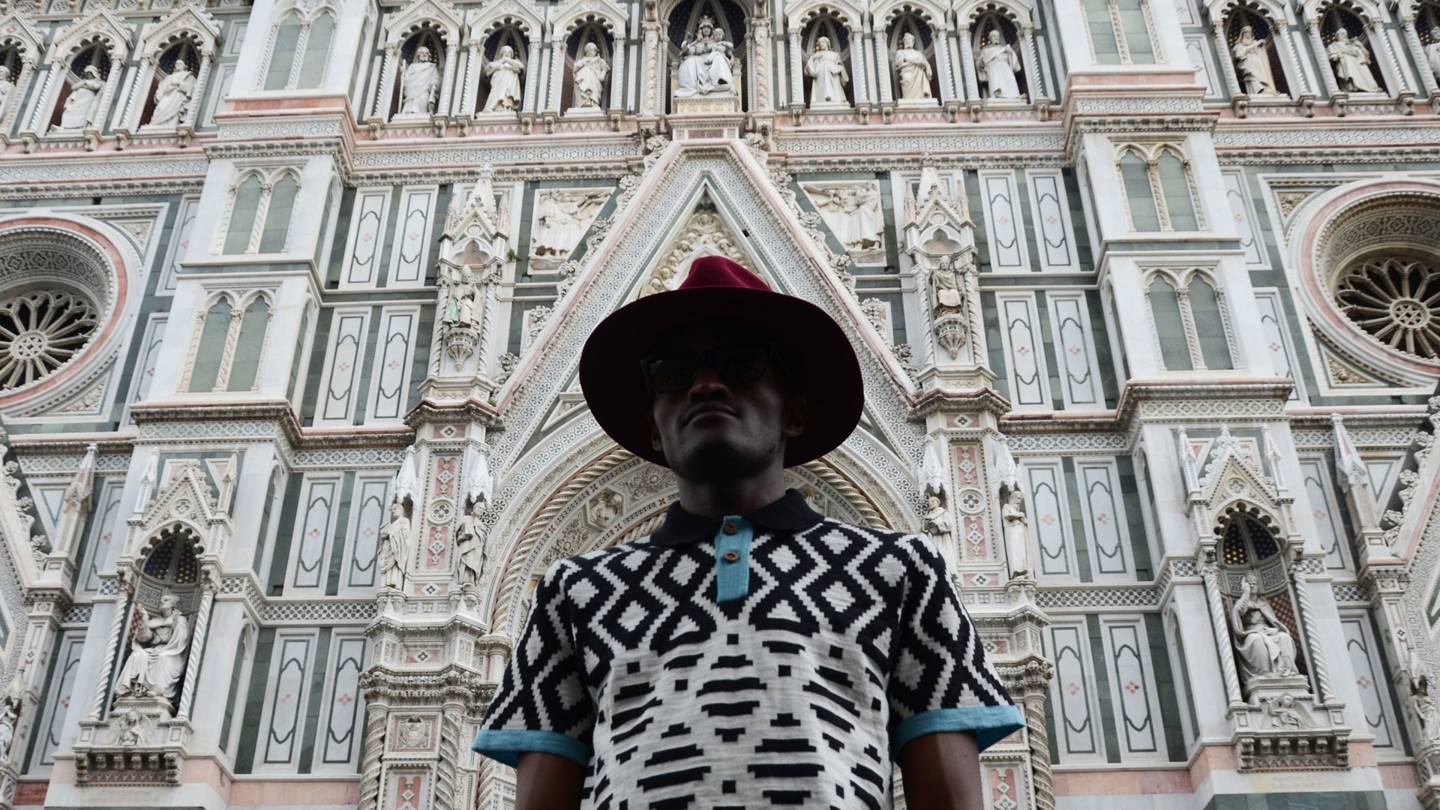 Maxhosa by Laduma: South African designer Laduma Ngxokolo draws upon his Xhosa heritage to produce knitwear with colourful, kinetic patterns to reflect Africa's dynamic energy
In Johannesburg, the leaves are not falling – even if the rain might be. Nor is this the end of a long-drawn out, sun-soaked autumn, as seen in Europe this year. Rather, this is the burgeoning bloom of a South African summer.
But whatever the season, rain or shine, Maxhosa By Laduma is designed for customers who like modern knitwear. Laduma Ngxokolo, the South African textile designer behind the brand, took his talent from South Africa to London's Central Saint Martins and back again, thrilling his many collectors with knits inspired by traditional Xhosa beadwork.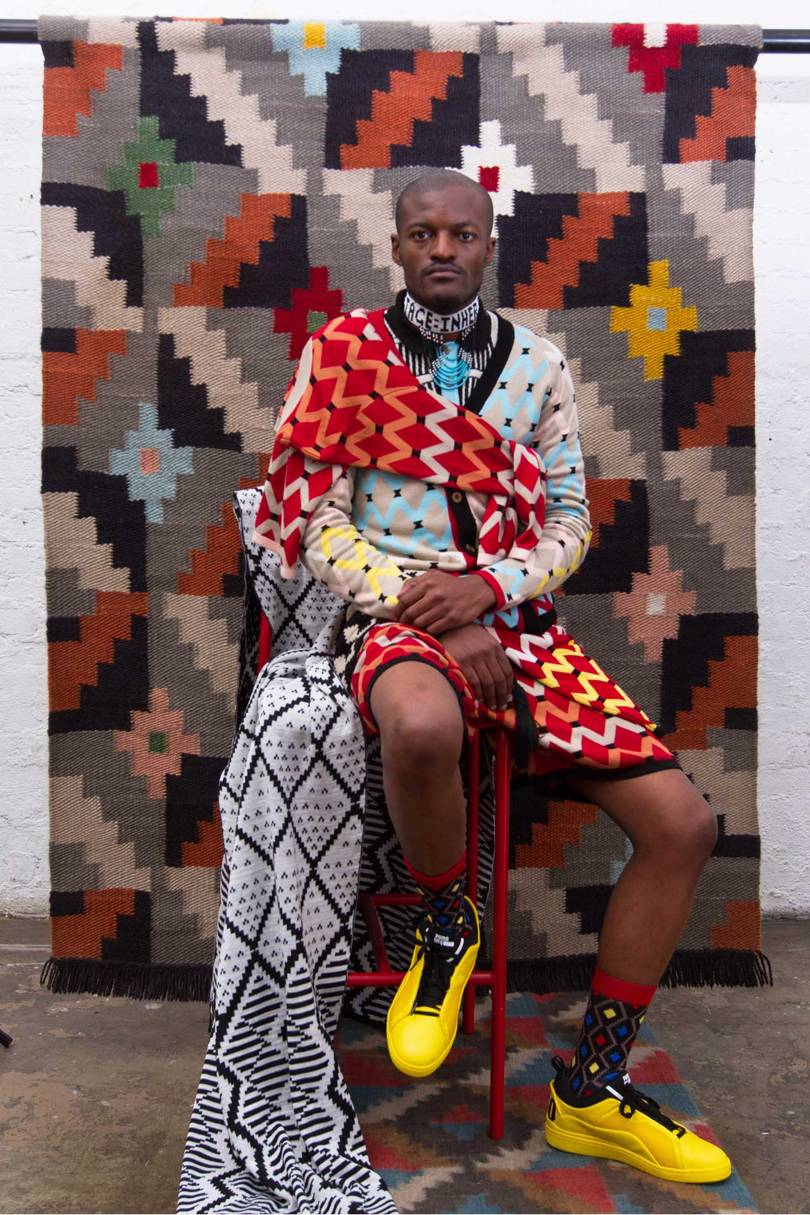 Maxhosa by Laduma
Laduma Ngxokolo
A star at this year's Lagos Fashion Week – and the only designer I saw focusing on knitwear – I managed to interview Laduma about the geometric patterns and unexpected colours of his stylish sportswear.
"I'd say my wish is to produce an evolution of African culture in fashion," said the designer, whose fashion collection soundtrack was by African hip-hop artist Manu WorldStar.
"Over the last couple of years, I have tried to create a utopian type of luxury brand that has an element of African Futurism," Laduma continued. "I remember when I started the brand in 2010, while I was doing my BA studies at Nelson Mandela University. Then I travelled out of my home city for the first time and came straight to London. So that was my first-hand experience of what was happening in the world."
"I looked around and I couldn't find any case studies of African luxury brands – that's why I started to fill that gap," Laduma explained. "Ultimately, what I want to show is that Africa is capable of producing luxury goods that sit next to other international luxury goods."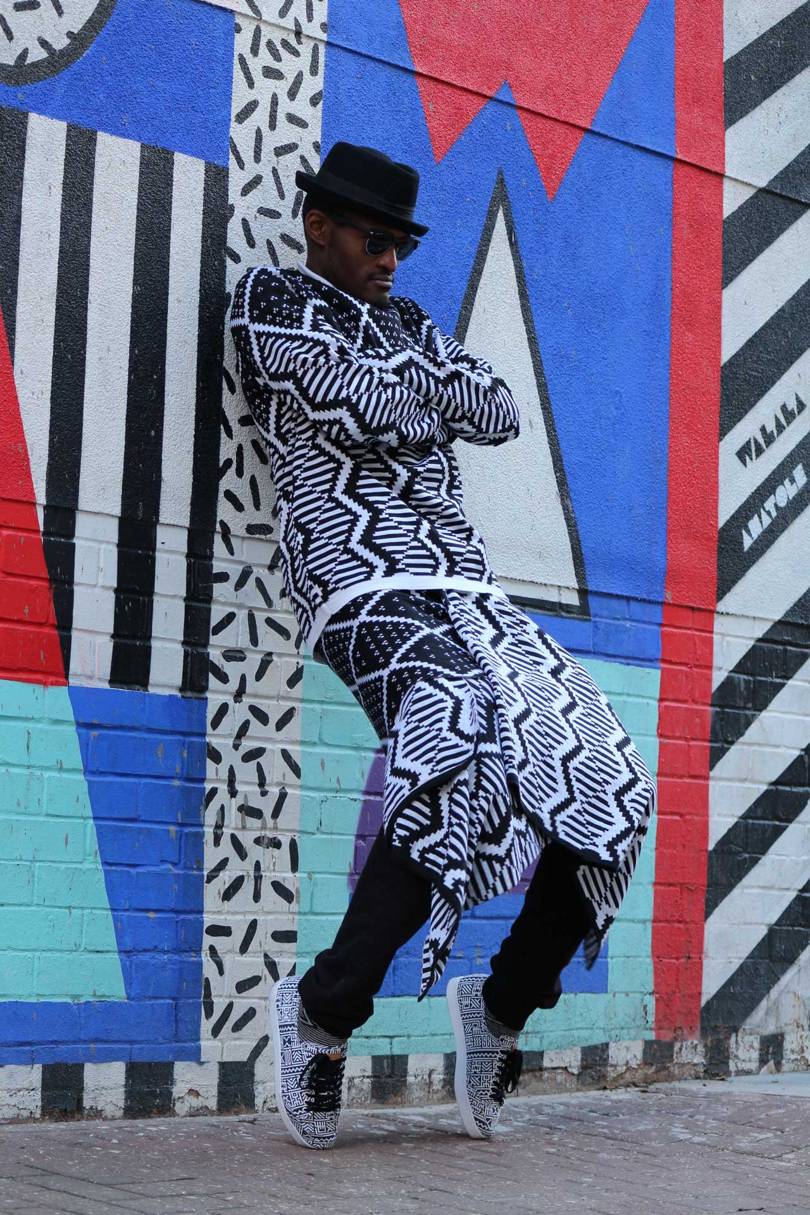 Maxhosa by Laduma
Laduma Ngxokolo
The first time I saw Laduma's striking work was in 2012 in Cape Town at Hanneli Rupert's concept store, Merchants on Long. Back then, there were stylish made-in-Africa handbags and a small variety of local fashion designers, among which Maxhosa By Laduma stood out for its colour, clean lines, and dynamism. Now, there is a Hanneli-Laduma collaboration with the Okapi accessories range, which sent cross-body bags, pouches and belts down the Lagos Fashion Week runway in Nigeria.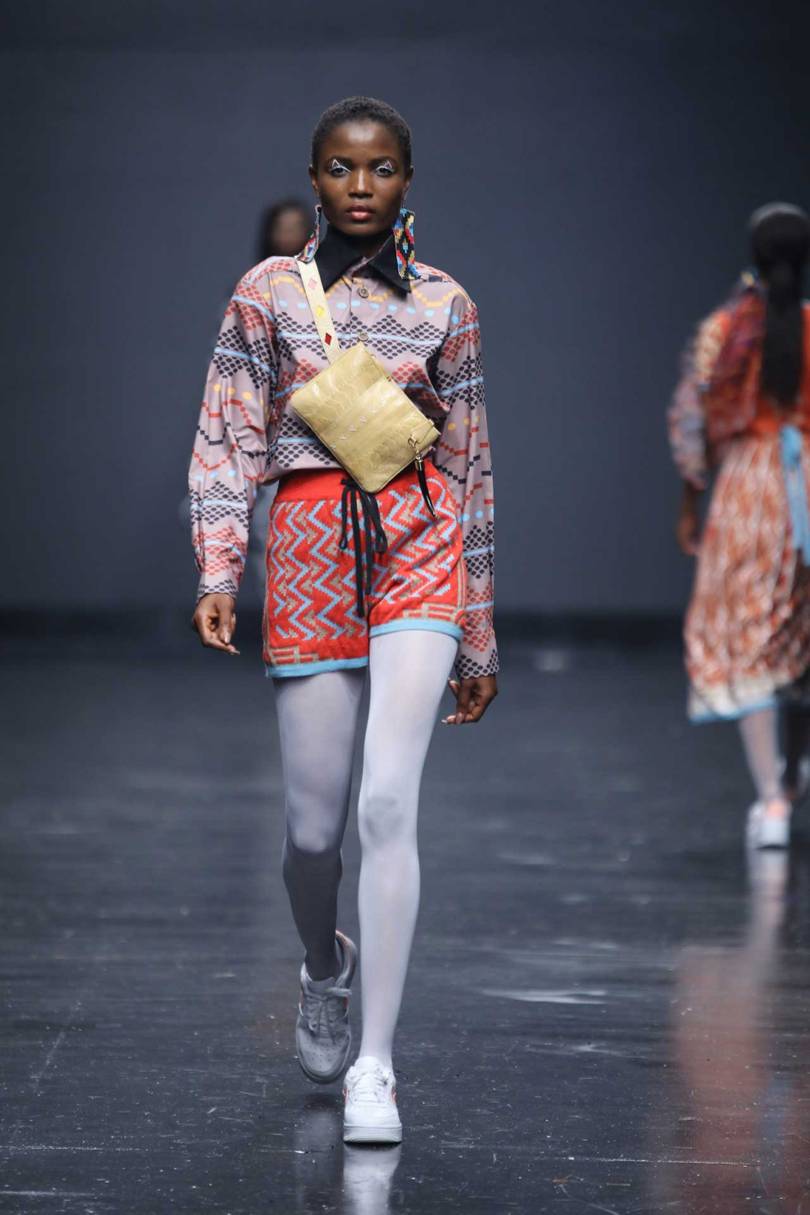 Maxhosa by Laduma, Lagos Fashion Week 2018
Lagos Fashion Week
This year has been crucial to the growth of Maxhosa By Laduma, because the designer has bought one of his supplier's factories, enabling him to develop his interest in fashion textiles in a broader way.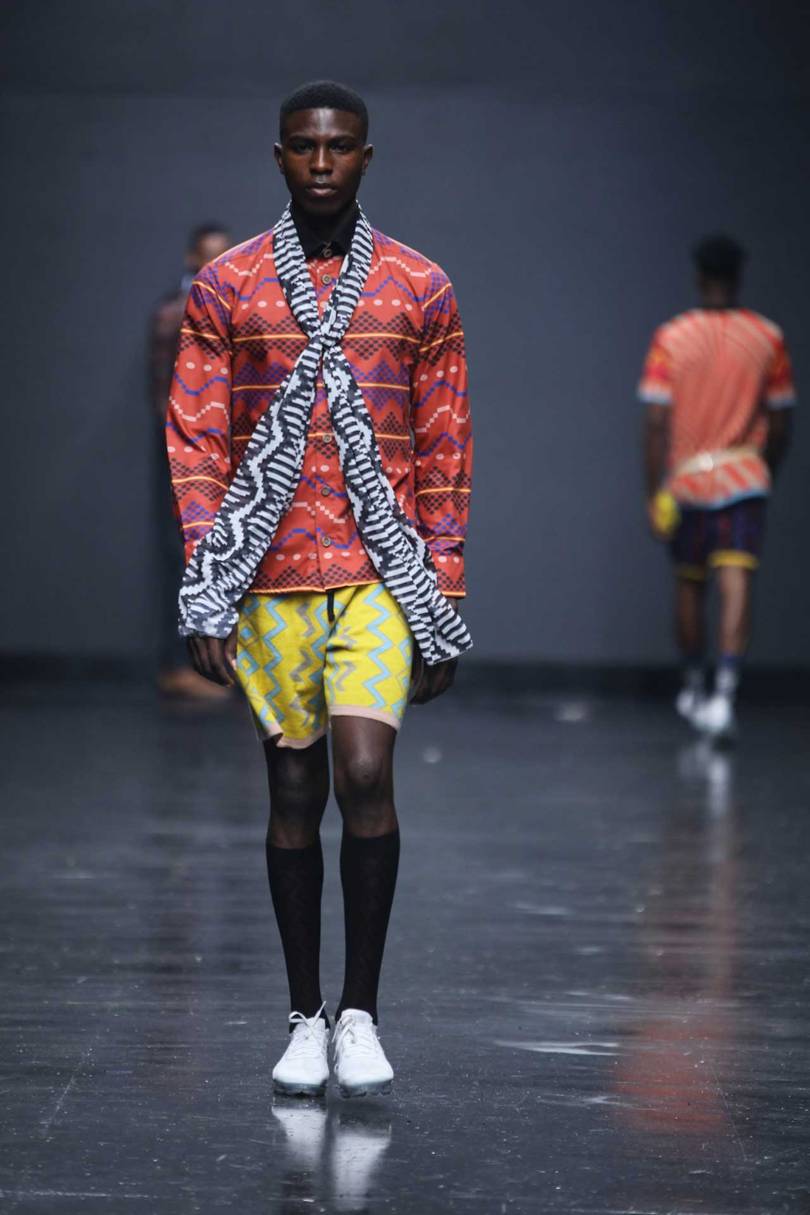 Maxhosa by Laduma, Lagos Fashion Week 2018
Lagos Fashion Week
"The African textile industry has deteriorated – 90% of clothing is made in China and there are very limited outlets. Although a lot of us aspire to be in that space, we have a limited infrastructure to manufacture our products," Laduma explained. "We have the commodities – mohair wool, and various other opulent fibres – but we export most of them. People are surprised when I talk about job creation – the factory that I bought was going to close down, but I recovered about 80 jobs."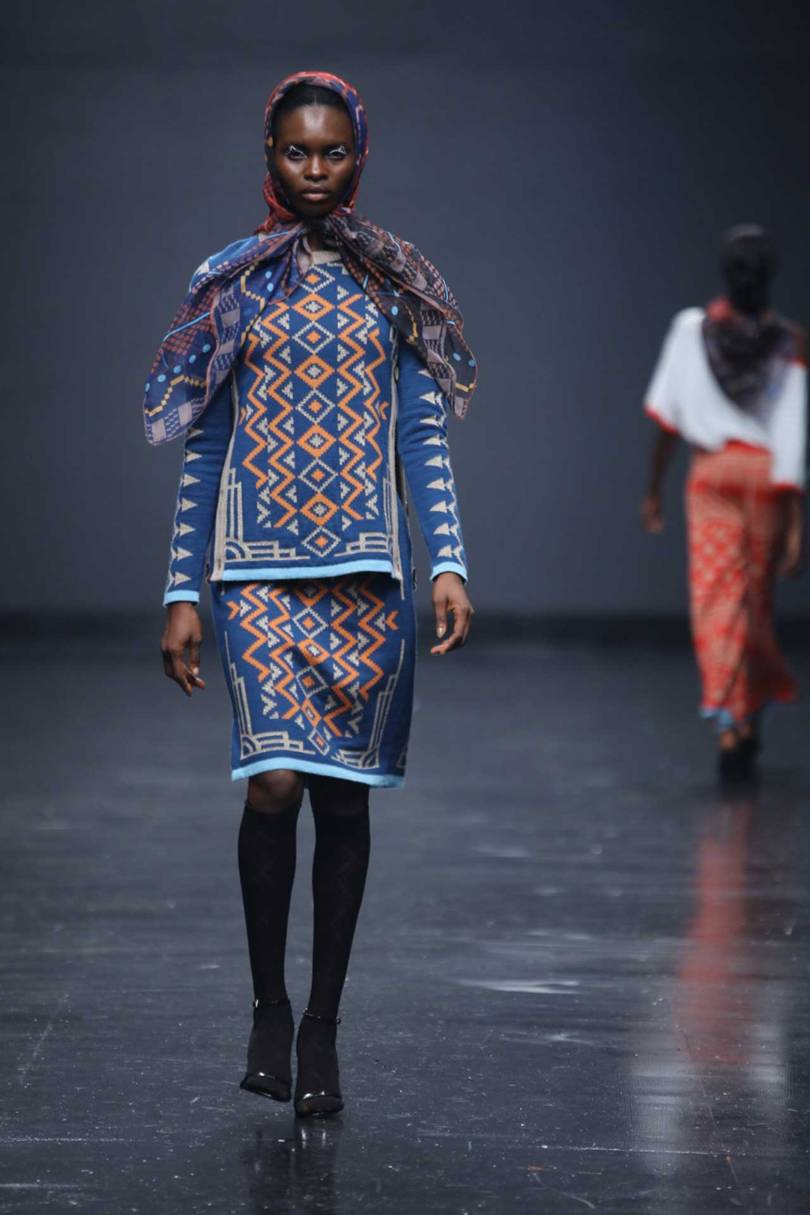 Maxhosa by Laduma, Lagos Fashion Week 2018
Lagos Fashion Week
Laduma's work in wool – perhaps a mannish coat knitted in squares, at an angle; or tribal geometric patterns for women's ponchos and trousers – express the knitting craftsmanship that he was taught by his late mother when he was 16. But, significantly, the patterns are modernist and angular, not the complex sequences of South African traditional dress, which can look tribal and exclusive.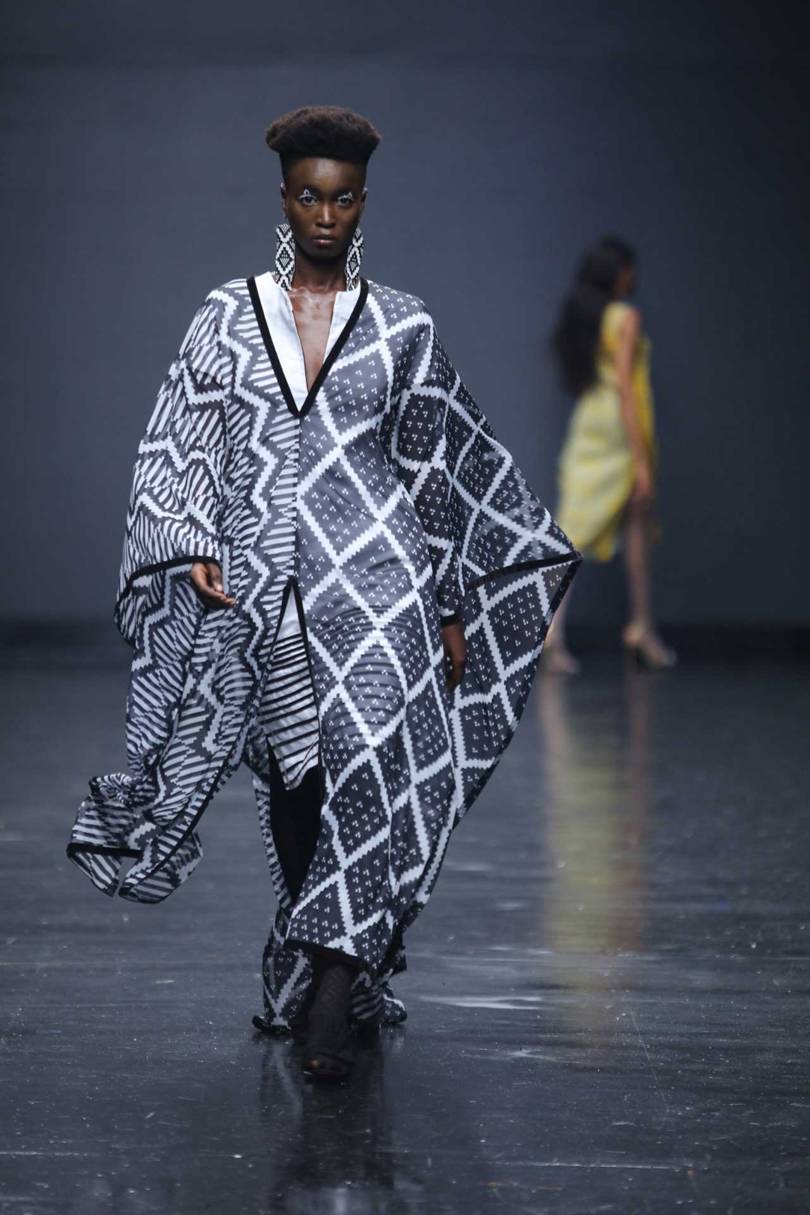 Maxhosa by Laduma, Lagos Fashion Week 2018
Lagos Fashion Week
"The story that I want to share is that culture is very important, and in the modern world it is disappearing," Laduma said. "I wasn't born in a poor area, I was born and raised in the city, so I didn't know much about my culture until I went on to research it and discovered a lot. As you know, Africa was the centre of slavery, which in some part has diminished a lot of people's dignity and self-confidence. As a brand, I want to reclaim the dignity and confidence of black culture."
Laduma's skill is to strike a just balance between ethnic and elegant, ancient and modern.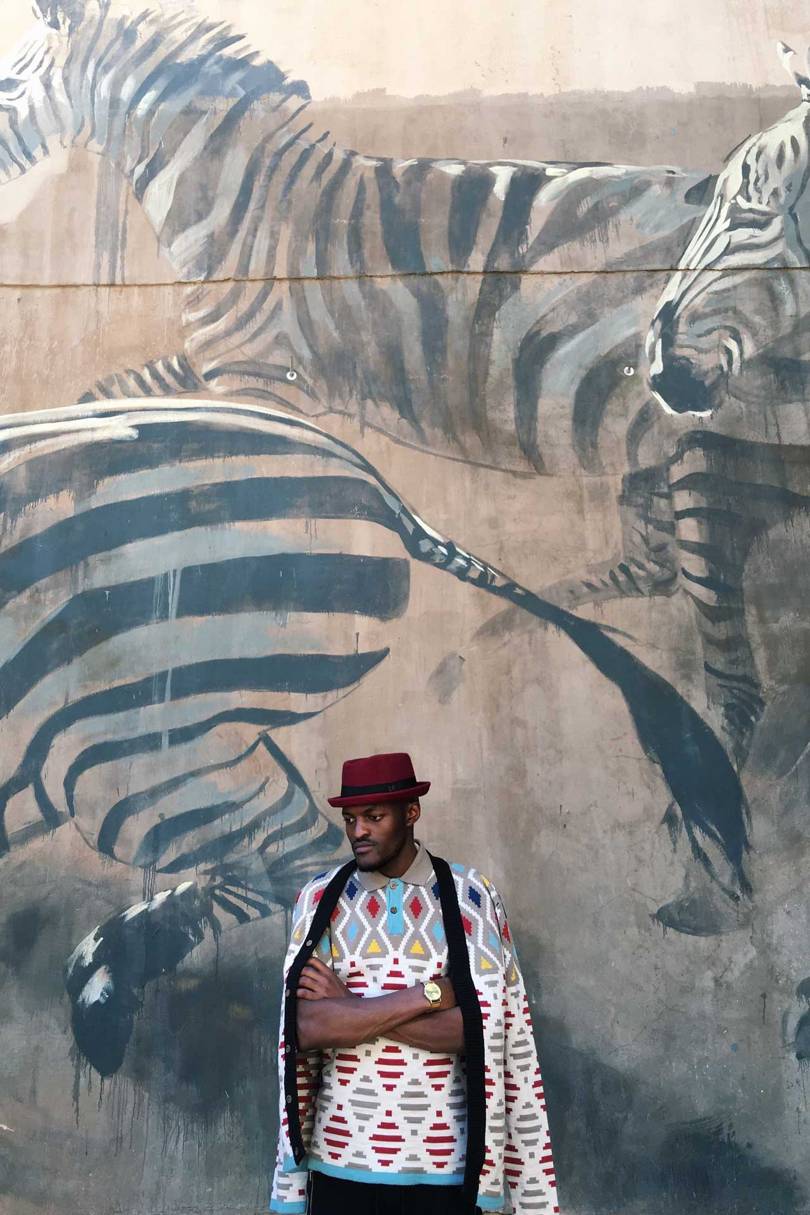 Maxhosa by Laduma
Andile Buka
"Sometimes, some of our clients are from the African diaspora – they get emotionally connected to what we do because it celebrates black history," the designer says. "That is why I play around with a lot of references. I learn about the negativity, and find new ways of making culture contemporary."
Laduma Ngxokolo will speak about African inspiration and modern fashion at the Condé Nast International Luxury Conference, "The Nature of Luxury", in Cape Town, South Africa from the 10th to 11th April 2019. For details, visit www.cniluxury.com
轉載聲明
本內容系VOGUE時尚網原創或經官方授權編譯轉載,嚴禁以任何形式或方法轉載或使用,違者追究法律責任。
將本文分享到
你可能還會喜歡
更多相關網站內容